Brick Fireplace with Log Burner – Everything you need to consider before installing
A brick fireplace with log burner is a wonderful way of adding some character and charm back into an older house.
In old houses, if you have an existing chimney breast, the process will be far easier than having to build from scratch.
In this article, we will guide you through the process of creating your own brick fireplace with a log burner, including the steps involved, considerations, and other important information. We also include various different looks to give you inspiration for your next project.
What is a log burner?
Log or wood burners are heating appliances that use wood logs as fuel.
Burning wood in a stove will create by ambience and heat within a room.
Nowadays there is an amazing array of designs and sizes meaning whatever your preference there is an option for you.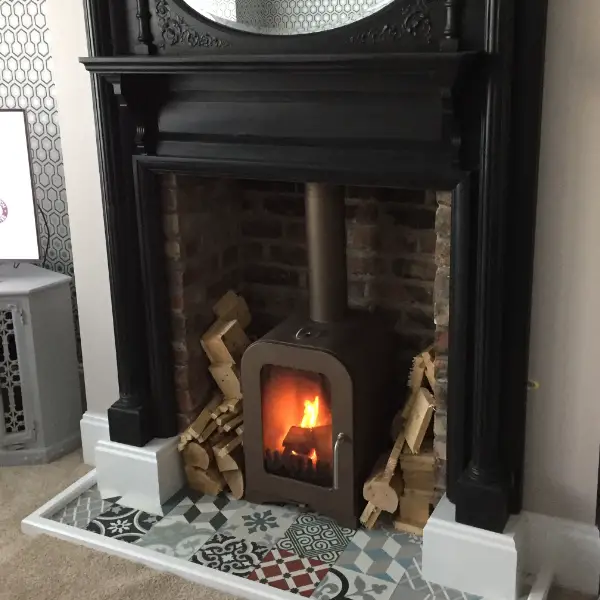 Brick fireplace with log burner – The benefits
Adding a log burner to an existing chimney breast is a great choice for homeowners who want to add a cosy, traditional touch to their home.
Not only will the log burner provide a functional source of heat, but will also add a beautiful focal point in a home.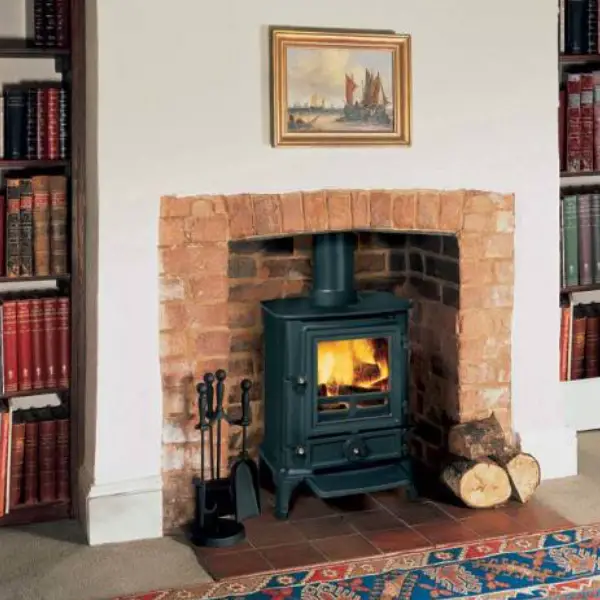 Nothing can beat getting in front of a warm fire with friends and family, it really adds to the atmosphere of a room during those cold and dark winter months.
By combining a brick fireplace with a log burner it provides the best of both worlds. You can enjoy the durability and timeless look of brick and the ambience of a real wood fire.
Assessing your current chimney breast
Often in older period homes that have been built with chimney breasts, you have an ideal place for your new log burner.
If you have an old fireplace already in situ, you might just have to knock through the wall to reveal the old fireplace. This can often be an exercise of going into the unknown, as you can sometimes find old period fireplaces behind the boards.
Before tackling this job we'd highly recommend consulting with a professional so that they can properly assess your home and the condition of the old chimney breast. It is often a very messy and sometimes difficult process so not one to be taken lightly.
Creating a brick fireplace with log burner – The installation process
The first step is to thing about what materials you need. Depending on your contractor you may have to source the necessary materials and tools. The materials required will include things like bricks, mortar, chimney & flue components and other bits.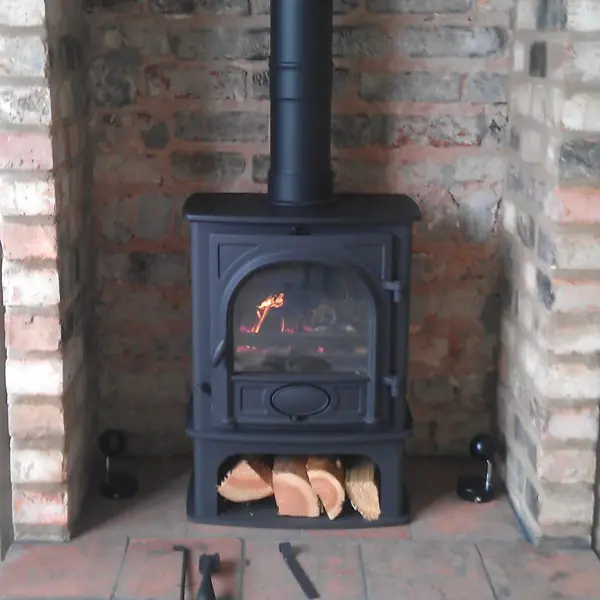 The easiest thing to do at this stage is to contact a registered tradesman to provide an installation service. Generally, they can provide all of the above materials leaving you only to source the stove itself. In some instances, they will even be able to provide a stove that is suitable for your space.
It is possible that the installer may give you a shopping list of parts, but we'd recommend asking them to source as they can often access beneficial trade pricing and they will likely also have more knowledge of the parts.
This next stage of the process is to begin thinking about construction. Often in older properties, old fireplaces already will already have an old concrete foundation, which has been used in years gone by. If not a new foundation for your fireplace will have to be built.
If you have knocked through a previously boarded-up fireplace, the condition of the bricks behind the plasterboard will dictate how much additional work is required. If the bricks are in good condition minimal work will be required. Unfortunately, some bricks will have been damaged by previous open fires and may need replacing to achieve the aesthetic you desire.
Unfortunately, you won't be able to assess the brickwork until the initial stages of construction are already underway.
The next step will be to install the chimney and flue. Again the complexity of the stage will depend on the house itself. If you are installing into a room without a chimney you will have to consult a builder as there are numerous building regulations and codes to consider.
If the property already has a chimney it will typically be the case of getting it swept and then installing a new flue.
The flue of a log burner is the part that comes out of the top of the stove and allows the smoke to move up and out of the property.
Although installing a log burner into an existing fireplace is less complicated than a new installation, it is a difficult and often messy job.
This Kinda Old House Top Tip

Save yourself the stress of trying to knock down walls and opt for a registered tradesman to take over the process.
Brick fireplace with log burner – Design considerations
Log burners now come in a variety of different styles, from traditional to very contemporary.
It can be quite overwhelming initially with all the different styles, sizes and options.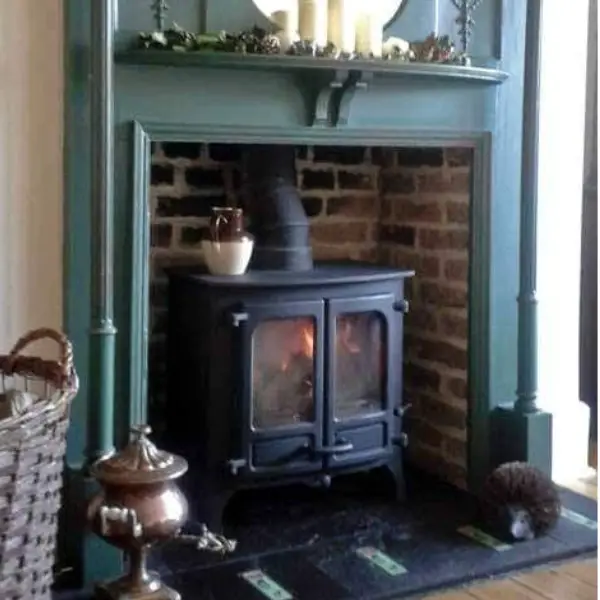 We would recommend first deciding if you want a modern or traditional stove. You can then use this filter to narrow down your options when you consider other factors such as the colour of the stove; if you want black cast iron or a painted one.
There are also some important finishing touches that will help your fireplace really become a focal feature.
By law, you will have to install a hearth to protect the surrounding floor. However, this also gives you the option to add some design flare because of the different materials that can be used as a hearth:
Granite – Matt or polished
Limestone – again available in many different tones
Tiles – you can choose the pattern
Bricks – if you'd like a more rustic finish
Glass – for a more contemporary look
The mantel is the final piece of the puzzle and again can come in a variety of styles.
You can go traditional with a reclaimed piece or more contemporary with a floating shelf mantel. Some houses even opt for no mantal and just plaster the old chimney breast and paint.
Things to consider when installing a log burner
Safety is always paramount which is why it's important to ensure you are in compliance with any local regulations. In the UK a new log burner must be installed by a trained professional who will certify the installation once complete.
One very important factor to consider is the room itself. It's always best to ensure that the room you're installing has proper ventilation in place.
Another element which is compulsory in the UK by law is the presence of a carbon dioxide meter. These can be sourced cheaply from sites like Amazon.
The cost of converting an old brick fireplace should also be considered before undertaking the work.Not only will you have the cost of the wood stove, but you will also have the installation cost and other peripheral materials such as plaster, the hearth and other materials
Although maintenance is relatively low, your new log burner will still require regular cleaning to ensure your brick fireplace and log burner runs safely and efficiently.
If your brick fireplace is attached to an old chimney breast you will also have to have your chimney swept each year to prevent a build-up of soot and creosote, which if left untreated can be a fire hazard.
Finally, in order to get the most out of your new stove it is imperative that you use properly dried wood. Dried wood burns much cleaner and doesn't emit as many particles, as well as providing a better heat output.
It's therefore important to consideration the storage of this wood. It is most economical to buy wood in bulk but it will require a dry, covered place to prevent moisture from affecting the quality of the wood.
Will I still be able to use my log burner after 2022?
Yes, although some regulations have changed in the UK there is no ban on wood-burning stoves. That being said in certain areas you must ensure you have a DEFRA-approved eco stove and use approved fuel, such as kiln-dried wood.
Brick fireplace with log burner – Final thoughts
In this article, we have provided a comprehensive guide to creating a brick fireplace with a log burner. We have covered the steps involved, from preparation to finishing touches, as well as important considerations such as safety, cost, and maintenance.
A brick fireplace with a log burner can add warmth and character to your home. If you'd like to learn more about different renovating projects for your old house, please check out our full range of guides.